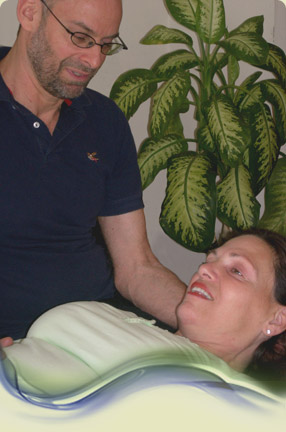 If you would like to schedule an appointment, have any questions or would like more information about CranioSacral therapy, please call (646) 334-1366 or email me.
Testimonials
Gabriel is a gifted practitioner who is incredibly intuitive and wise. I began seeing Gabriel when I was a few months pregnant. I was seeking powerful body work from someone very special. I found that in Gabriel. My experience has been phenomenal. I have had lower back pain and horrible foot pain for most of my life. This is not the case anymore. My body during and after pregnancy has felt different. Energetically, physically and emotionally I have felt more balanced then ever before. Gabriel is warm, caring and I feel blessed to have worked with him.


Melissa W.
Being an acupuncturist, and for the last 12 years, a CranioSacral therapist, myself, I have come to be familiar with many excellent CranioSacral therapists. Among all these fine practitioners, I have to say that Gabriel is my favorite. He is "the therapist's therapist."

I have known Gabe for many years, and he continues to study, learn, and grow, ever widening his encyclopedic knowledge of the body and its energetics. In addition to being an extraordinarily skilled practitioner, he brings to every session a keen intellect, perception and compassion.

"Healing" is a complicated and many-faceted concept. I believe that, while in a therapeutic session, trust in one's therapist is of utmost importance, otherwise one's deeper resources are not as readily available. One instinctively knows whom to trust and to what degree. I think one of Gabe's greatest gifts is that his integrity & wisdom communicate to his clients in such a way that they intuitively know they can completely relax and place their well-being in this very kind & competent soul. For me, each session with Gabe is unique, and I always come away healthier either emotionally, physically, spiritually, or more often, a combination of all of the above.


Constance Repplier, LMT, LAc
Gabriel - you are a gifted healer. You have the unique & astonishing ability to "read" my body & my energy with astounding 100% accuracy. You translate your reading into a profound, relaxing, invigorating, awesome, therapeutic healing experience that I never want to end. I want the experience to keep going on & on & on!

Because of your help I no longer suffer from chronic dizziness nor the digestive problems, which caused me pain and discomfort. Sessions with you have improved my temperament as I face each day optimistically and confidently. You are indeed a MASTER healer. Thank You & GOD BLESS!


Ruth G.
I started out coming to Gabriel for traditional massage, but over the past couple of years we have been focusing on CranioSacral work. Some times I have come to him because something is "wrong" (e.g., a pain in my neck, gastro-intestinal problems), but far more often I have come to him for the overall enhanced sense of wellness I feel during and after our sessions. I always have Gabriel's complete attention; this is the foundation of his sensitivity to my physical, emotional and spiritual needs. The unique quality about Gabriel's work is that it is both stimulating and soothing. This is paradoxical but it is a tribute to the richness of the experience which Gabriel provides.


Frank Kelly
"I'd been to Chiropractors, massage therapists and have taken numerous medications along with MRI's and ERG's due to herniated discs in my neck. I could not hold my head straight with out pain & numbness.

"After my first session with Gabriel, the constant pain and pulling in my left arm vanished, by the second session I had no numbness in my arm - I was amazed! I wasn't able to work out before and am now able to continue my work out routine without pain. By our 3rd session I felt like I did before I hurt myself, completely free of pain.

"I can't thank you enough, I was considering surgery which was recommended by all my doctors when I was referred to you. I no longer take medications for pain or need to sit with my head down to relieve the numbness, nor will I have surgery.

"Again, Thank You Gabriel for all your effort and amazing healing abilities!!"


Wayne Langweil
"I had an injured shoulder--the rotator cuff was two thirds torn. I was given 3 cortisone shots, which helped at first but afterwards the discomfort reappeared and it was actually painful for me to move my arm. The fact that I'm a sculptor who chisels stone (alabaster, marble, etc) made the whole situation even more difficult for me.

I was resigned to surgically repair the rotator cuff but decided to try Gabriel Bobek, a CranioSacral therapist, to see if he could help me and he did! Gabriel gave me two full sessions and indicated how I should use my arm when sculpting or performing other activities. It's been nearly five months since the CranioSacral treatments and my arm feels good. In fact I was able to finish a sculpture and am very grateful to Gabriel. He is very knowledgeable of the CranioSacral techniques and is very professional in his approach."


Silvia Reiter